Set in the gorgeous Talamanca bay, five-star hotel Nobu Ibiza Bay uses art as a contrast to a cool interior. The art was personally curated by the owners to create a custom, residential feel, blending different art forms such as ceramics and photography.
The interior design is sleek and has a natural feel thanks to the use of materials such as marble, stone and linen. Artworks with colours such as Klein blue, jade and gold add a contrasting warmth to the cool design. The owners worked together with local artists to create bespoke commissions for the hotel.
Guests are first greeted by a commissioned piece by Aldo Kovacs, a seasoned, resident artist in Ibiza. The concierge desk was painted to reflect the natural landscape of the protected heritage site of wild reeds, so called "Ses Feixes" to the one side of the hotel and the sparkling waters of Talamanca Bay to the other. A further two beautifully vivid paintings by Aldo can be found in the lobby area and also in the Presidential and Royal suites.
The largest and most impressive piece located next to Nobu restaurant is by Elizabeth Langford. She was commissioned to create this large format quadriptych, made of Chrysocolla pigment textured panels (a vivid blue-green coloured gemstone which inspires serenity, expression and empowerment). Langford is a young British artist who has been working on Ibiza for several years and works with indigenous pigments to create striking pieces of abstract art with a somewhat Japanese feel. Her stunning pieces can also be found in the Presidential suites.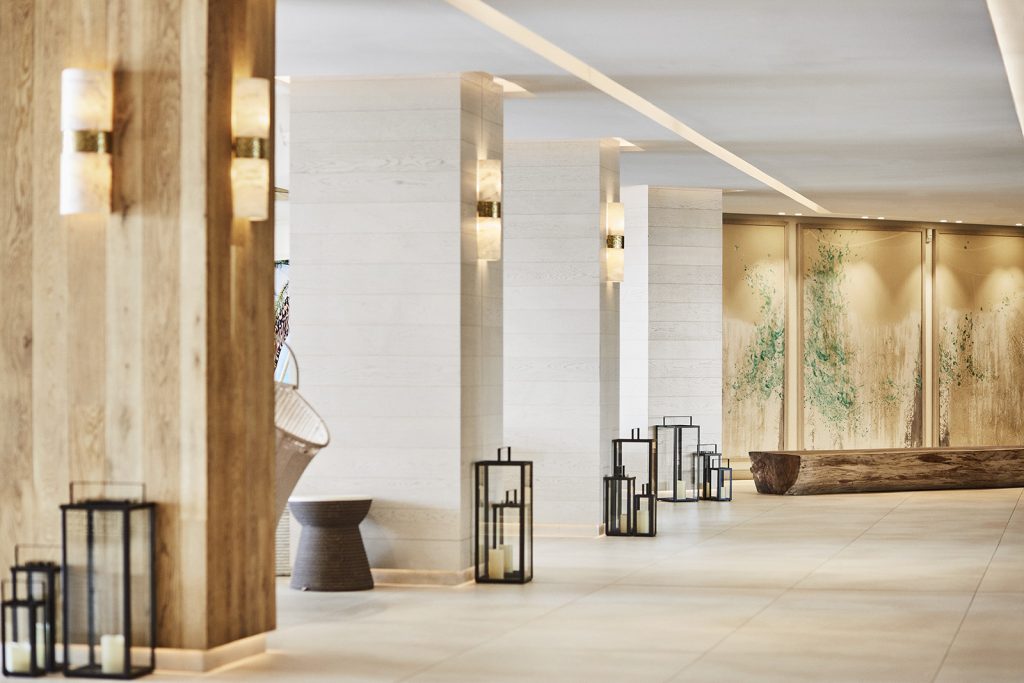 Photography plays a major part in the hotel; a mix of fashion and iconic photography are dotted around the public areas and suites. Most of them are large formats diptychs and triptychs, adding a touch of glamour to the spaces.
The natural theme is further complemented by handmade ceramics. Anna Ortiz, a Spanish sculptor and ceramist from Andalusia created the wall hangings for the rooms and terraces. The one-off plates in hues of celadon and aqua are paired with the work of William Pauer. Pauer is an Ibiza based artist who uses the Japanese art of Raku to make stunning pots and dishes. These have been used to place the succulent plants in the rooms and decorate the larger suites.
Finally, the owners collaborated with another well-known and much-loved artist on the island called Willy Marquez. Marquez created a bespoke line of naturally hued, abstract linen paintings which have been beautifully framed and hung strategically in the guest rooms to create a sense of elegance and calm.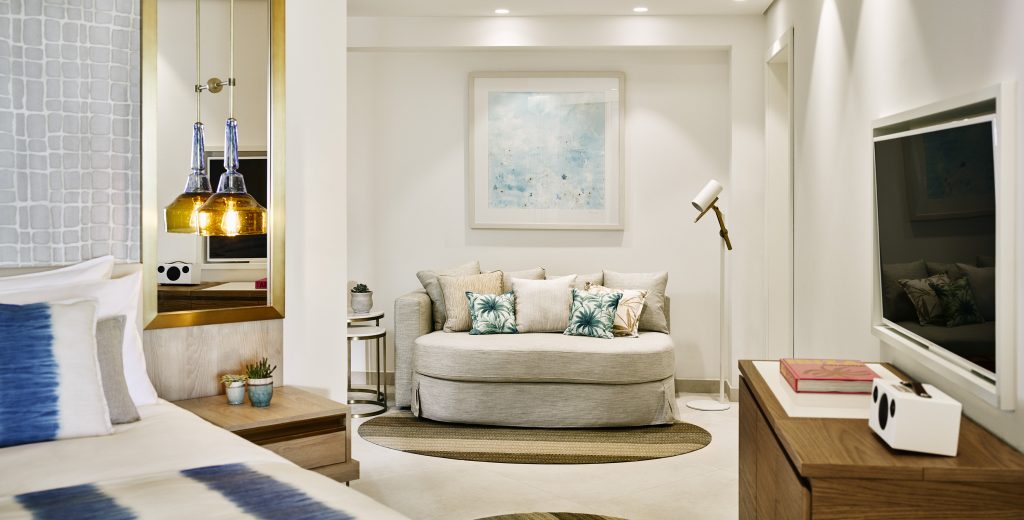 Disclaimer: This art collection/selection was not curated by the Art In… agency team.