Immersive creates compelling installations that blend the latest technological solutions with designs that are integrated into a variety of spaces. Using an interdisciplinary, global team, they create unique theatre experiences, present high-impact live event concepts, and more.
Their portfolio includes BMW car launch events, the opening and closing ceremonies of the 2012 London Olympic Games, and 3D space experiences and interactive exhibits at the Smithsonian's National Air and Space Museum.
What began as a company creating innovative stage shows for live electronic musicians and live acts has since grown to create artistic environments for all kinds of cultural institutions, corporations and individuals, on scales both large and small.
Immersive is now designing unique art installations, bringing their tech-forward approach to creating custom pieces that take full advantage of everything bleeding-edge. Within their multidisciplinary studio, they are delivering their installations in all kinds of settings — even a superyacht near you.
We sat down with Tommy Lexen, Managing Director and Executive Creative Director of Immersive to talk about the company, which has made its pivot to the art world in the last two years.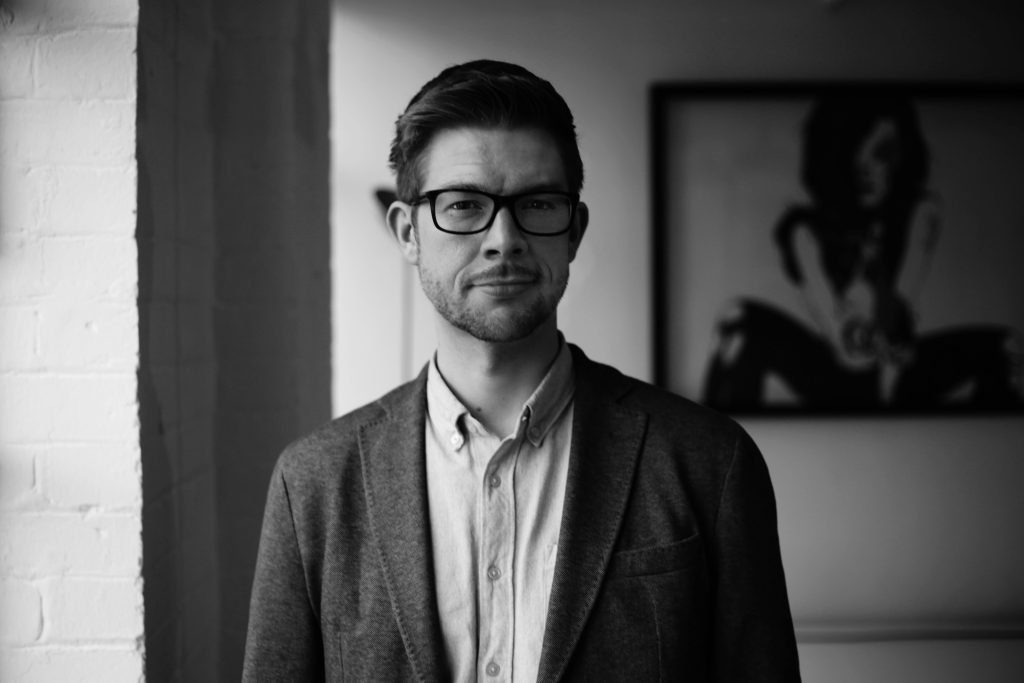 TL: "We have done a lot of live shows, product launches and big experiential events in our portfolio, but… now we are a bit more focused on the art and museum industry and… as the technology evolves and becomes much more cost-efficient… [we can] move on to more public commissions. Where previously a client wouldn't have been able to afford 10 projectors for a gallery space, now that technology is there. So instead of being exclusively a commercial enterprise, this is now readily available for the public art and culture sector."
Immersive's spatial storytelling
Immersive's bespoke service integrates its installations with the surrounding architecture and interior design. They don't see their work as merely augmenting a space, but something that truly blends the digital component with the non-digital, blurring the border between the virtual and the real. It's all in the effort of what they call spatial storytelling.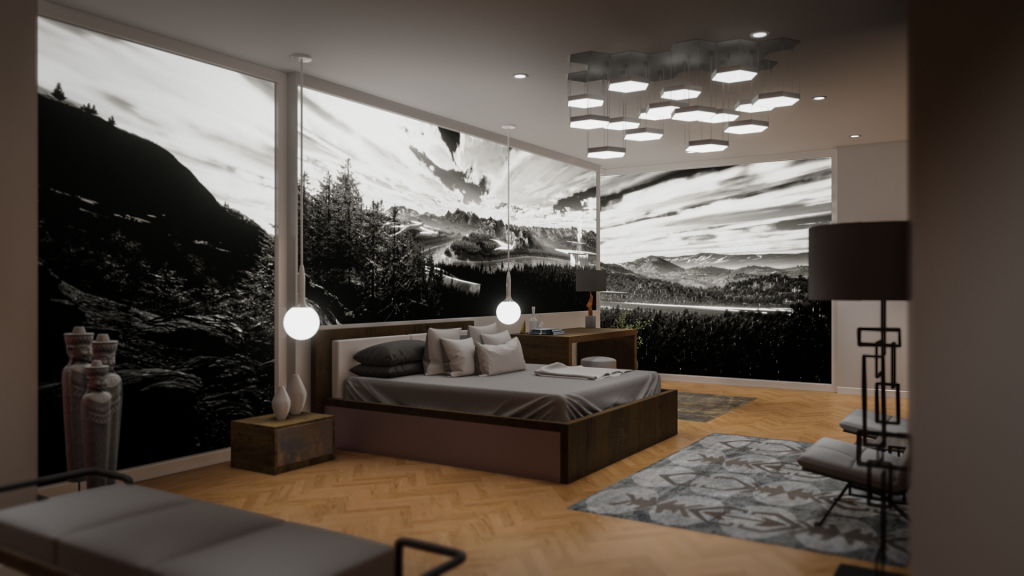 When it comes to the specifics of the installations, Immersive acts as both a kind of digital art curator and creator. They work with their global team of artists to generate a piece that meets the needs of the space. Lexen shared details on one installation created out of their Shanghai office by CEO John Munro. It illustrates just how conceptual and dynamic these pieces can be.
TL: "The exhibition John is working on includes ten constantly evolving black and white artworks combining nature and architecture, created in a real-time engine with dynamic lighting and weather. Nine of these will be minted as NFTs, of which five are individual 24-hour long constantly evolving landscapes, two are dual portrait responsive screen installations and one is a triptych multi-screen installation. The final piece is a large-scale immersive mural installation with visitor interaction."
Taking inspiration from 1960s experimental architecture and utopian notions of nature as a site for creativity and freedom, the artworks reflect John's personal exploration of "non-dual" consciousness while drawing on Immersive's spatial investigations in experiential art and design.
TL: "It's a collection of living and breathing black-and-white artworks, never overpowering or overstimulating people. Everything from lighting and weather seamlessly moving by as the day goes on. These concepts can also be expanded from 24 hours to 365 days for private commissions, making them a piece for a year that every day will be different. We have been creating spatial experiences in the real world for the past 20 years and now we are laser focused on transferring all that experience to the Metaverse."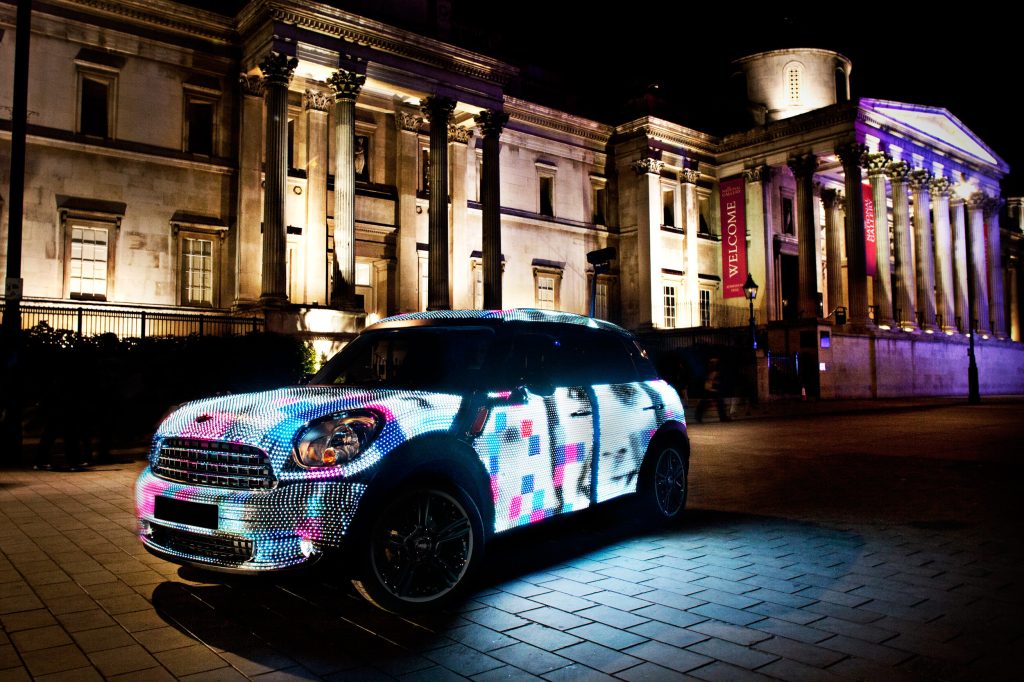 New opportunities: NFTs and digital art
Beyond any single installation, the company is also interested in being a part of the art world's future. Immersive stands ready to take advantage of the digital turn, something that Lexen and his colleagues have their finger on the pulse of.
Non-fungible tokens (NFTs), are of particular interest. These are digital contracts and certificates secured on blockchain networks. This allows people to purchase something connected to a digital piece of art — though they typically don't own the copyright. So far, they've mostly been used like a digital certificate of authenticity, but to Lexen, their continued use points to other possibilities beyond this one feature.
TL: "[With] the growing market of NFT's that are around, lots of art owners — whether they have… a mansion,superyacht or private jet — they're starting to invest in NFT's, seeing that there's a growing opportunity in digital art. Most NFT art so far has been digital still images, pretty much JPEGs or simple 2D animations. You can display them on a screen but that's about it. Now more and more NFTs are becoming three dimensional and some studios like ours are exploring spatial NTFs. You need to rethink your idea of what a gallery is and how you do it. And if you own or sell the media, which is digital… then you have all the possibilities in the world to do something interesting with it."
Though NFTs are only one part of the next wave of digitization, they seem like a symbol of something bigger. Unlike some commentators, Immersive is bullish on what these blockchain-backed instruments can do and what they signal for the future.
TL: "[NFTs have] been around for quite a long time. The first NFT was minted in 2014. So we have had it in ourconversations for a long time. We've developed new pipelines for this type of design process over the last couple of years, but I think it's always been about finding out, "When is the market ready for this?" And I think we're just about getting there now. And in one sense, some people think we have a peak of interest, but from our end we just see that as a starting point… Interest in "JPEG" NFTs is probably at its peak, but NFT artworks and experiences can have any digital footprint."
Immersive sees itself as something of an instigator for change as well as a good shepherd, leading the sector into the future. New technologies and platforms like the metaverse will no doubt disrupt how art is made, presented, sold and enjoyed — that's an opportunity the company is looking to take.
TL: "[The idea of building a metaverse] is everywhere right now, but there's a lot of research still needed in terms of the actual usability for all these platforms. There's plenty of opportunities out there, but it's also about — from our end — checking in with the market and helping the creative industry to grow in this space. For us it's not about being the first to drop a certain type of NFT in the space…but it's about: how can we actually change the industry in a sustainable way? And how can we help? How can we help bring the world into this kind of semi-virtual, semi-real space? "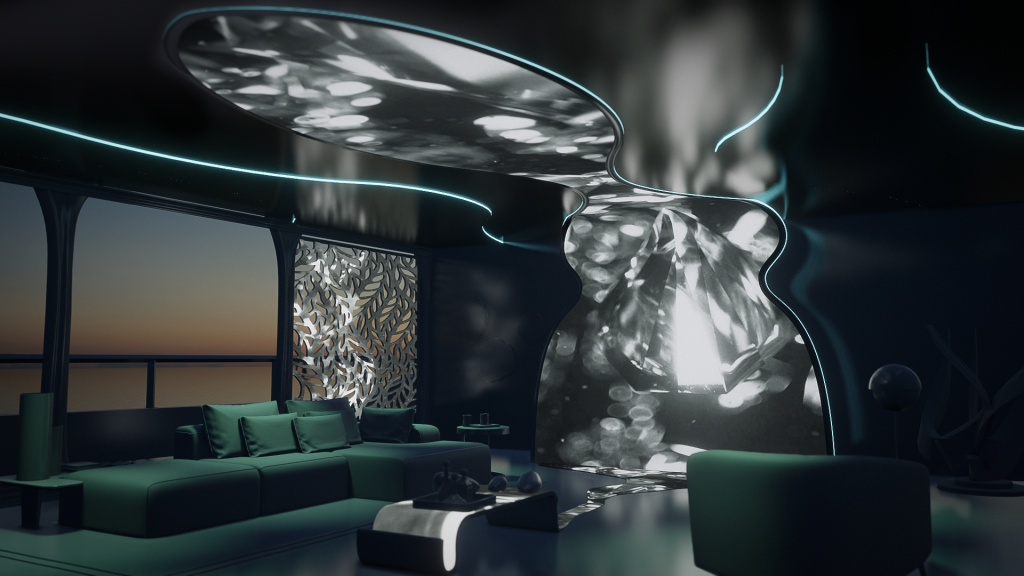 VR, AR, and the art experience of tomorrow
As new technology continues to develop, Immersive strives to stay ahead of the curve. The latest frontier — namely, virtual reality (VR) and augmented reality (AR) — presents a toolset the team is already familiar with but that is only now gaining widespread public adoption.
That's allowing them to emphasize these tools over the video projection technology that they made their name with.
TL: "[Projecting moving art] means you can make any surface come alive (augment it) whether it's round, triangular, or spiky. However, as the world is getting more conscious about power consumption… so within this conversation we should look at what's the most energy efficient system that can create this augmented experience. Projection-mapping in the past has been quite energy-consuming, however, as we go along we have to see what the development is, of course, more [the] AR part coming into play. And I think everyone is just waiting for [those] first AR glasses… The world is completely open for it… you can play games, you can do anything as a communal experience. That's a big difference from the VR experience that already exists… You can do it with your family, with your friends, with your colleagues. And we're not far away… we have fingers crossed for next year."
Immersive's website