In 2002 Vanessa Branson and Howell James were looking for a holiday home and walked into the almost ruined courtyard of one of Marrakech's formerly great private homes. They fell in love and after a two-year renovation, El Fenn opened with six bedrooms in March 2004.
Since then twenty-two more rooms and suites, three swimming pools, a restaurant, bar, spa and library have been added thanks to the purchase of neighbouring riads and the expertise of renowned Moroccan architect Amine Kabbaj.
Vanessa Branson opened her first art gallery in London in 1986 and built an extensive private collection of works by artists including William Kentridge, Fred Pollock and David Shrigley. Today her artworks hang throughout the public spaces and bedrooms at El Fenn.
Dine in the restaurant under a stunning chandelier created by Francis Upritchard or curl up with a book in the library next to a set of photographs taken by Terence Donovan on a trip to Morocco in the 1960s. On the bedroom walls you might find a series of ink studies by Sir Antony Gormley or cartoon-like works by David Shrigley. In the corridors, you'll see dappled light filtering from pressure cookers transformed into conceptual art by Batoul S'Himi, while Guy Tillim's arresting series of portraits of Congolese boy soldiers hangs in the boutique. Other featured artwork include, a sand blasted wood installation by Matt Bryans, Red and Yellow oil painting by Sir Terry Frost, among many others.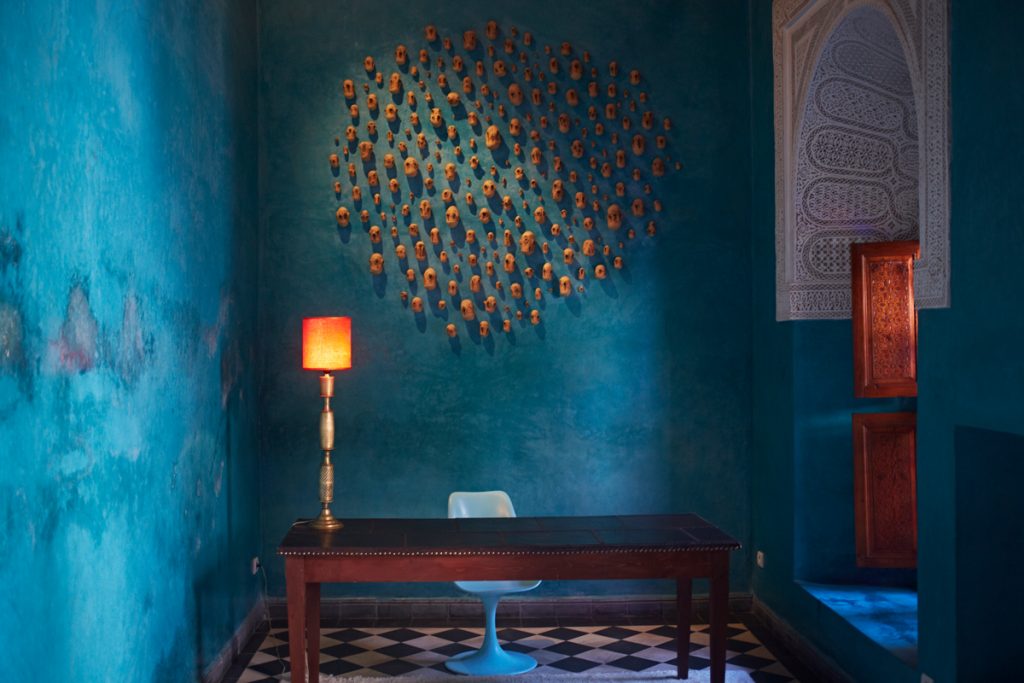 A keen collector of Arabic artists, Vanessa's desire to celebrate their diverse creativity resulted in the creation of the Marrakech Biennale. Beginning in 2005 as a gathering of arts enthusiasts who organised literary events and exhibitions, the event has grown to become internationally recognised with a thriving visual art and literature programme. We asked Vanessa a few questions about El Fenn's art collection.
Why Marrakech?
I had begun to know the town well in the 90's when waiting for Richard to take off in his attempt to become the first person to circumnavigate the world in a hot air balloon.
How did the idea of creating a hotel with an art collection come about?
As El Fenn neared completion of its first building I was overwhelmed by its majesty and wanted to honour this by hanging the better works from my private collection there. Since then we have enriched the collection with some new works.
The art is from your private collection, do you have plans to exhibit the works elsewhere?
I always have plans but none set in stone as yet.
What are your criteria when choosing new art for the hotel?
We have never bought hotel art. Some of the works are quite tough, not decorative at all but good work shines through and El Fenn guests appreciate being challenged.
How often does the art change in the hotel?
We now have a rolling programme of exhibitions in the public spaces. Working with the best Moroccan art galleries. The exhibitions are not commercial but there to surprise and engage.
What attracts you to Arabic art?
There are some extraordinary artists emerging from the region and beyond. The contrast between the medieval architecture and contemporary ideas provides a stunning back drop for imagery. The richness of the craft tradition a resource and the Islamic sensibility a different way of looking at the world.
Which is your favourite artwork in the hotel?
It's hard to choose, each work tells a story but I think the series of black and white photographs of boy soldiers by the South African artist Guy Tillim would be the first to be saved in a fire. The boys arresting stares, their vulnerability contrasting with their potential for violence, never fail to solicit a positive response from the viewer.
Do you have an artist in residence scheme?
Not at El Fenn now, but we are planning a residency programme for Eilean Shona www.eileanshona.com in Scotland where, until now, the residency scheme has been a little haphazard. No bad thing, some great artists have spent time up there.
How did the purchase of a house via turning it into a hotel lead to an art Biennale?
Now that is a very big question! Owning the hotel provided the anchor to launch the biennale in Marrakech. I founded the biennale as a response to the West's building antagonism towards Islamic countries, knowing that the arts provide a safe arena in which to discuss contentious ideas. I thought we could provide the perfect environment for artists, writers, poets, film makers, collectors and academics to come together and talk. And of course party. What started as a two venue festival developed over the next decade into a world class biennale taking place in over fifty venues over three months.
The last Biennale was held in 2016, are there plans for another edition?
Sadly the biennale has temporarily hit the buffers. It is hard to fund raise for a not-for-profit arts organisation without some core funding from the state. One day…..
Do you have plans to open other art hotels?
I've never really considered El Fenn as an 'art hotel' rather as a hotel with very good art.My focus has been on refurbishing the main house on Eilean Shona, an island just off the West Coast of Scotland. This has a terrific collection and over the last few years has been the inspiration for a number of films and great art projects.
Disclaimer: This art collection/selection was not curated by the Art In… agency team.