Patrick McPherson is an interior architect and designer based in Vietnam. For the past 12 years he has worked in interior design and architecture on high profile private houses in New York, London, Vietnam and China. His latest project was leading the interior design of 5-star resort villas in Vietnam. We discuss interior design in Vietnam, trends and how using art in design elevates a space
How do you express a clients' personality in their interiors?
Perhaps the main way to do so is, firstly to talk with a client about their true loves and passions for life and lifestyle, the things that they love to experience and do, how they relax, how they have fun, what books, stories, music and art do they like. How do they want to feel when they are in a space, and so on. Then our job as designers is to consider how to use traditional design elements and principles and theory to create the desired effects that are unique for the client. These can be done in a multitude of ever-evolving ways, which is highly exciting to see in its variety at this time in the world of design.
The concept below expresses the clients' love for travel and multicultural interconnection. They enjoy mystery and depth in their Asian-inspired artwork and the calm balance of the white and dark tones of the French-inspired hard and soft decoration.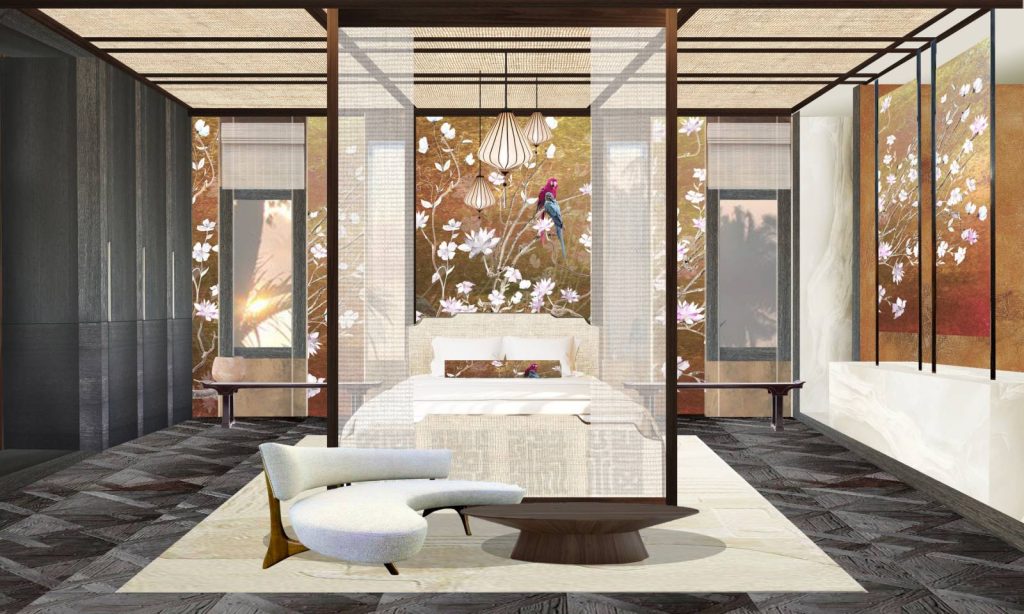 A client, for example, might want to experience a combination of calmness, and serenity in a space while also feeling its warmth, which might reflect those qualities of the person's soul.
The below images show the Casa Marina Premium project I worked on, which is operated by Radisson Blu, and designed by Huni Architectes. The project encompasses a design that is aimed at expressing the soul of the guest through its warm sun-like cushion motif against a monochromatic softer palette, where the sunlight warmth from inside which is felt through bespoke fabric applications.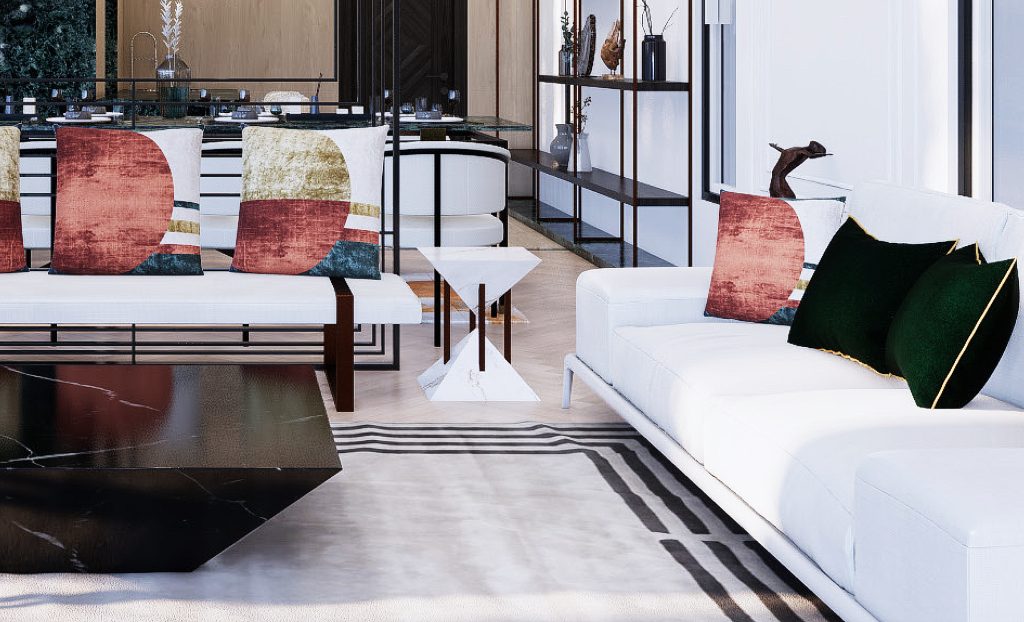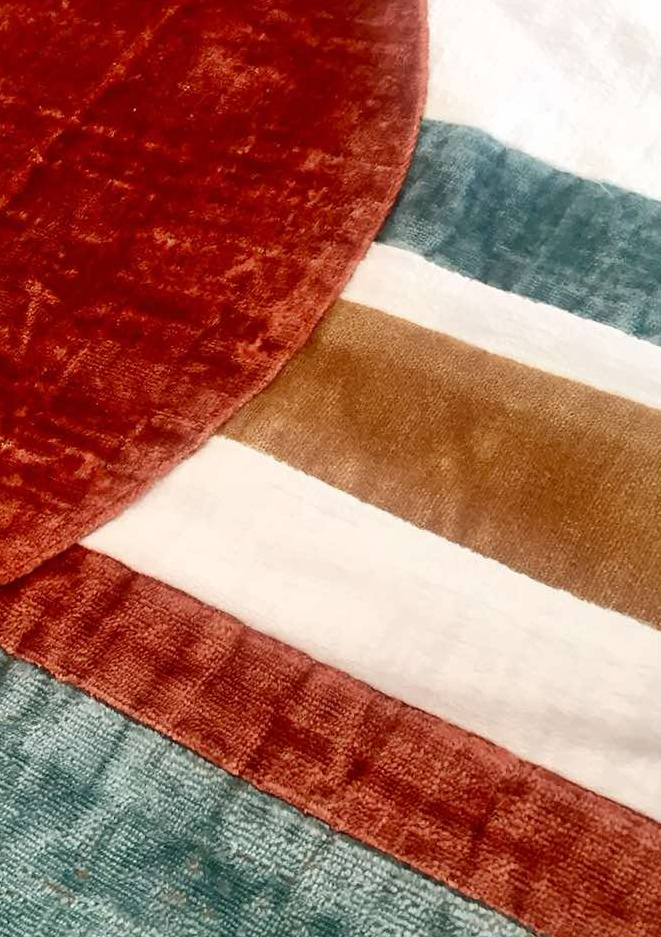 What is unique about the Vietnamese interior design world in comparison to others?
Vietnamese designers seem to be ultra creative and there is a great scope here to be free to explore design and to interconnect styles eclectically in ways that are not normally seen. The design approach in Vietnam feels freer than I have noticed in other parts of the world. This gives way to such an exciting potential for emerging new trends in design.
There is a heightened sense of joy that can be felt through their work and they create spaces that the guest or owner can truly fall in love with. I have recently been working with a very talented team at Huni Architectes, who create extremely special experiences in their designs for the guests who will ultimately visit and enjoy the finished projects.
What are the challenges in the Vietnamese interior design world that designers and homeowners need to know?
One important element to consider is the installation and finished designed interior, including the finished production of furniture and detailing. As interior design is fairly recent to Vietnam, the expertise of the installers and contractors is also young in its course. Certain skills and crafts, which usually require many years to perfect, have to be learned and applied quickly here. Therefore, we need to be extra rigorous with checks. In order to ensure a high quality finish we need to carry out a very careful process of studying and communicating between experts of crafts, and those who are implementing the works here. The more time and energy investment into this process, the greater and greater we will see the quality of our finished products, which in turn will be recognised well on the global design arena.
Perhaps the most enriching way to create unique designs in Vietnam is to respond to the heritage and traditions of a project's location. For example, the location of Mui Ne,below, was influenced by the ancient Cham culture. The design below shows a concept for a lobby whose spatial structure was inspired by the Cham temple forms and proportions, whilst the material and tones used are inspired by the desires for calmness and tranquil depth of the high-end Vietnamese and international enthusiasts.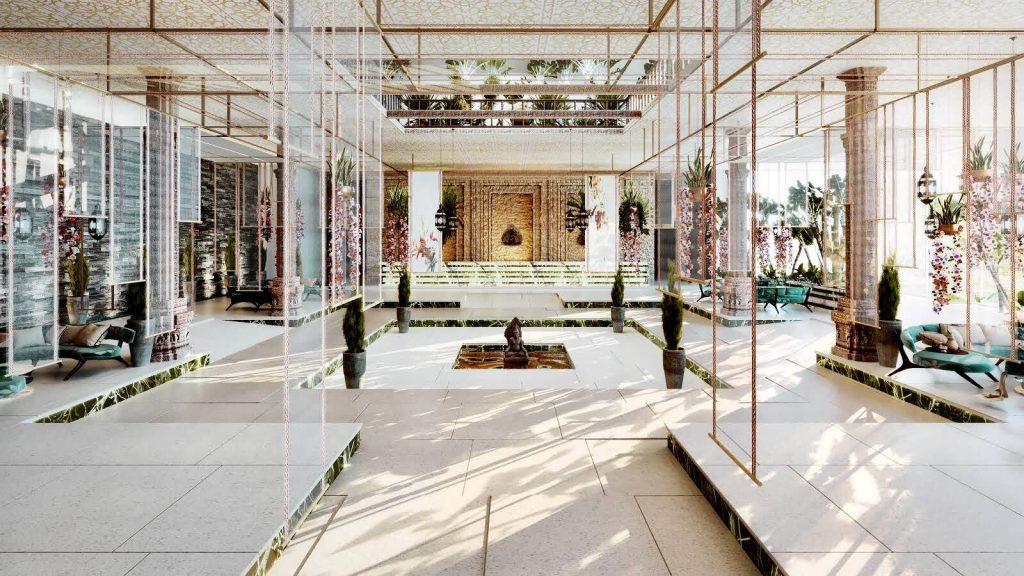 Another way that interior design can be unique to Vietnam is by exploring the most beautiful and unique Vietnamese traditional arts and crafts and considering how these can be applied in new ways to projects to create a whole range of feelings, such as fun and upliftment, to mystery and suspense.
How do you use art in your designs?
I feel that in interior design firstly the entire design is a canvas and composition, which usually must be balanced in order to create a feeling of harmony. There are many ways to create balance, through contrasting tones and forms in opposite spaces, each harnessing the ability to create a greater or smaller sense of space, or a calmer or more energized feeling.
As for specific paintings and sculptural artwork, these can be applied as either the core focal aspects of the design or complimentary features, or both.
In the project pictured below I created a coloured pencil floral drawing, to inspire the connecting of nature, organic forms, elation expressed through the avian kingdom. I then applied the drawing to a fabric upholstery for the seating areas in a lobby lounge.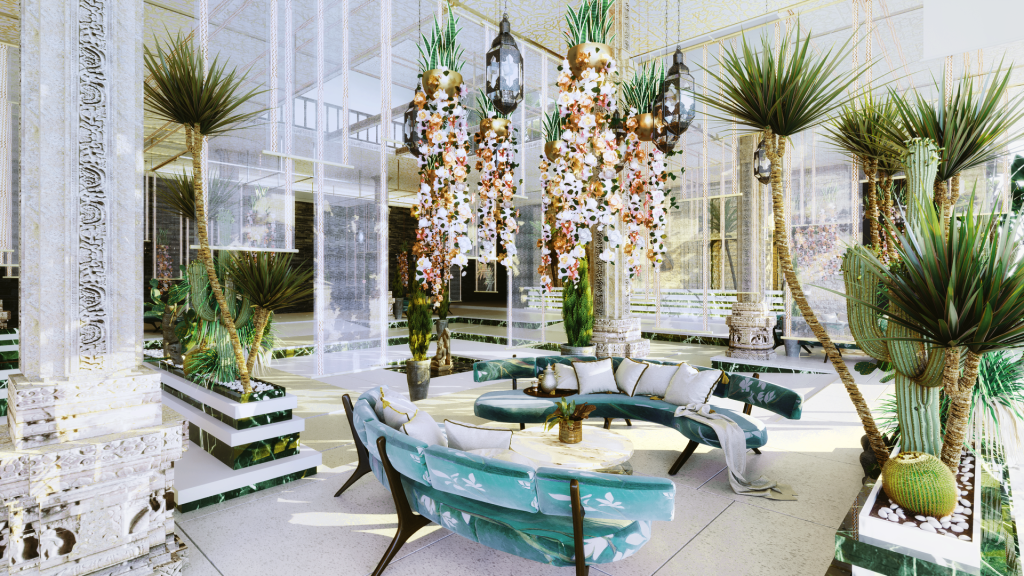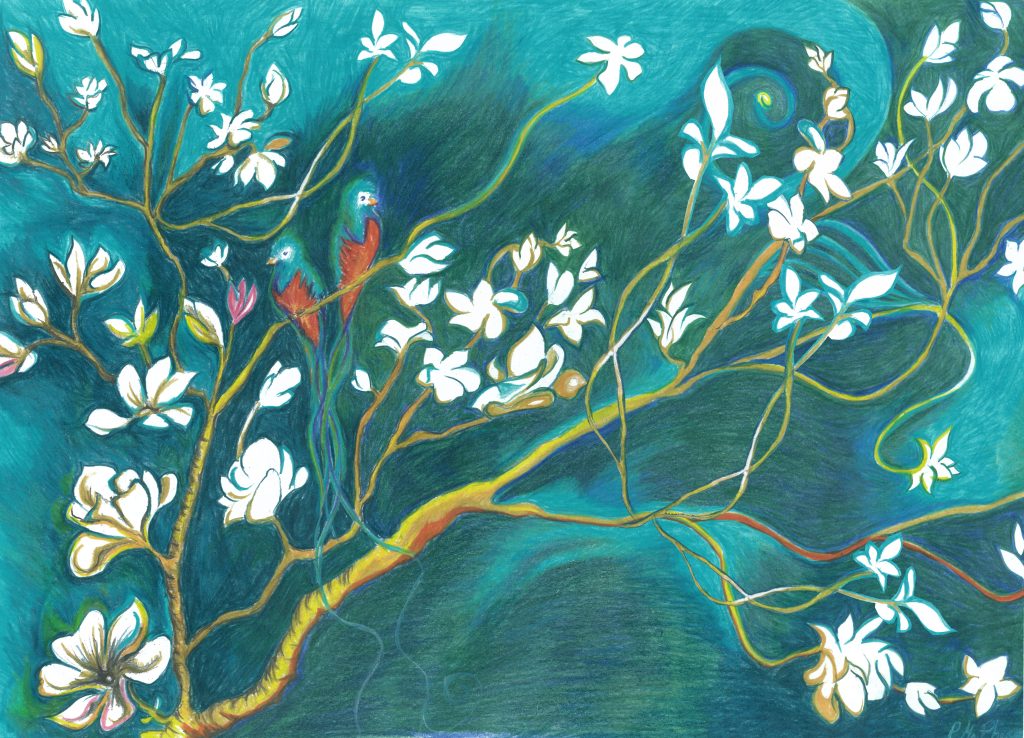 What do you think art brings to an interior?
On a personal level, and with the guest or user in mind, I feel strongly that artwork holds the power to bring an interior to life, which has been demonstrated in its extremity, where a cold or derelict space has had a painting added to it, and immediately the whole space will be filled with the feeling that the artwork evokes.
Of course, the ultimate effect depends vastly on the original artist, their meaning and feeling that has been imprinted into their work. One can sometimes feel how much love has gone into a painting or sculpture, and this will be radiated into its surrounding space. Be it mystical or even intangible to some, this may be why so many of us love art, even without being able to describe it. In a design that has been treated as an art in itself, we might feel ever more depths of soulful states of being, from enriching warmth and joy, to calming serenities, and emotive dynamisms.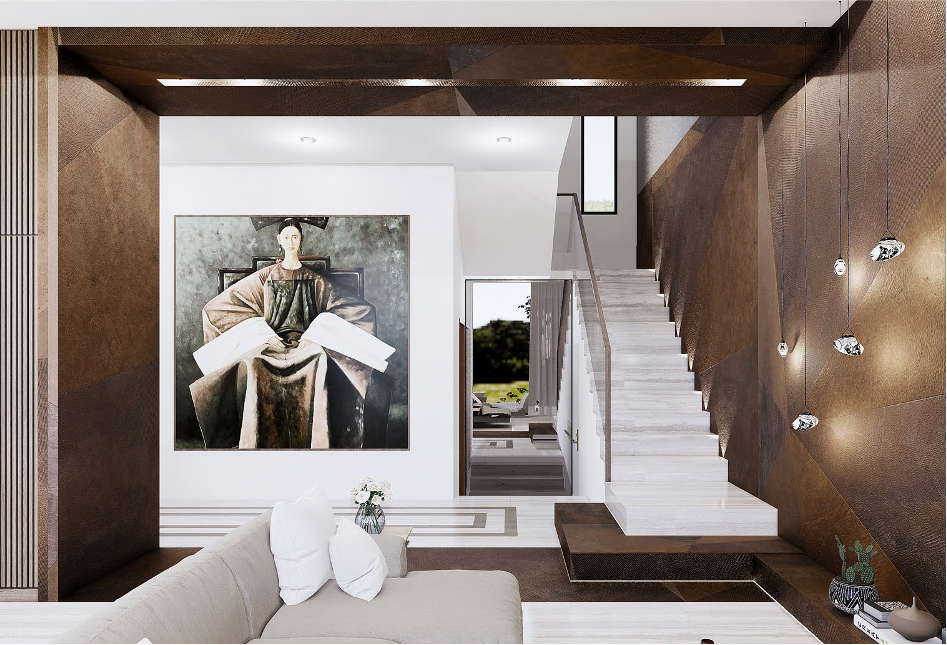 What factors are influencing new trends in high end design?
Beside all of the focus on wealth in the high-end sectors of design and lifestyle, the deeper desire is the awakening of expression and care of our emotion. This can be expressed by bringing feelings of joy, balance and elation in spaces.
Additionally in synchronicity with the rapid rise in Vietnam's wealthy classes, is the access to intercultural experience and knowledge, evoking new interests and connoisseurship.
Some wealthy homeowners seem to be desiring both an element of sophistication and depth and quality, whereas others are very keen to have a calm simple and clear space, which can be relaxing to the mind after a long day's work. Some contemporary designs are seeing a significant marriage between the desired depth and clarity that can be manifested through subtler details in design.
The emerging high end design trends for Vietnam seem to be greatly influenced by the French and Italians, with French architecture being more prominent in Vietnam's history. There have been significant influences from the Asian cultures over the centuries, particularly in aspects such as the mystical powers of the phoenix and dragon, and the Feng Shui elemental belief systems. Such rich history of elating symbology can really bring a sense of joy and depth to the home, through their dynamism and tone.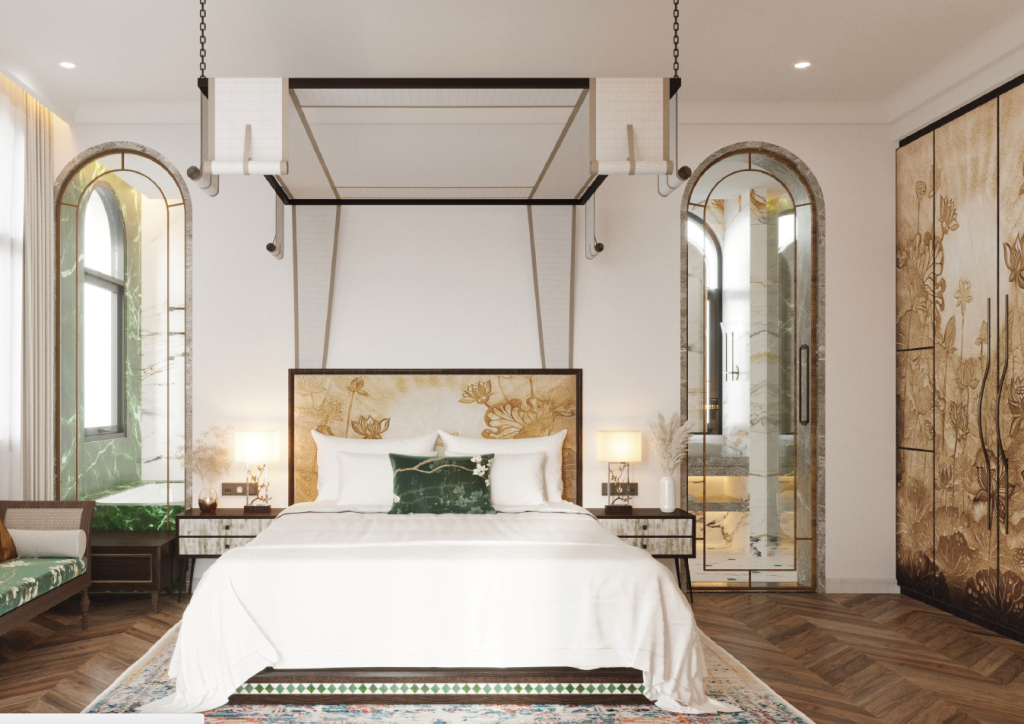 What are you working on now?
I am now in the process of working more closely with the international high-end private residential market and developing design business partnerships with a focus on future market trends, with the addition of sustainable and regenerative processes.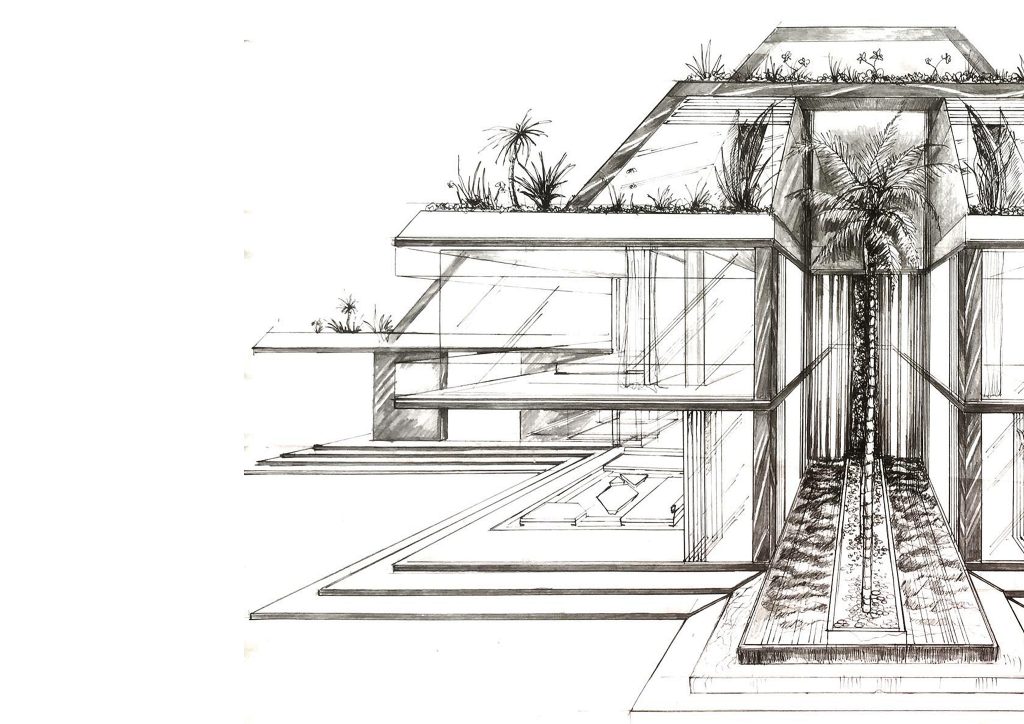 Future plans?
I am also representing an up-coming high-end international art platform and discussing potentials for successful Vietnamese women leaders, entrepreneurs and philanthropists to connect with a highly acclaimed British organisation.
Click here to go to Patrick's website.