Jack Trodd is a curator and the founder of Brushes with Greatness, an agency & nomadic gallery, forging creative connections through experiential and personal engagement with art.
He recently curated and launched the first in a series of art exhibitions, Liquid Afternoons, featuring emerging artists, in partnership with London Bridge's up and coming wine bar Tap & Bottle.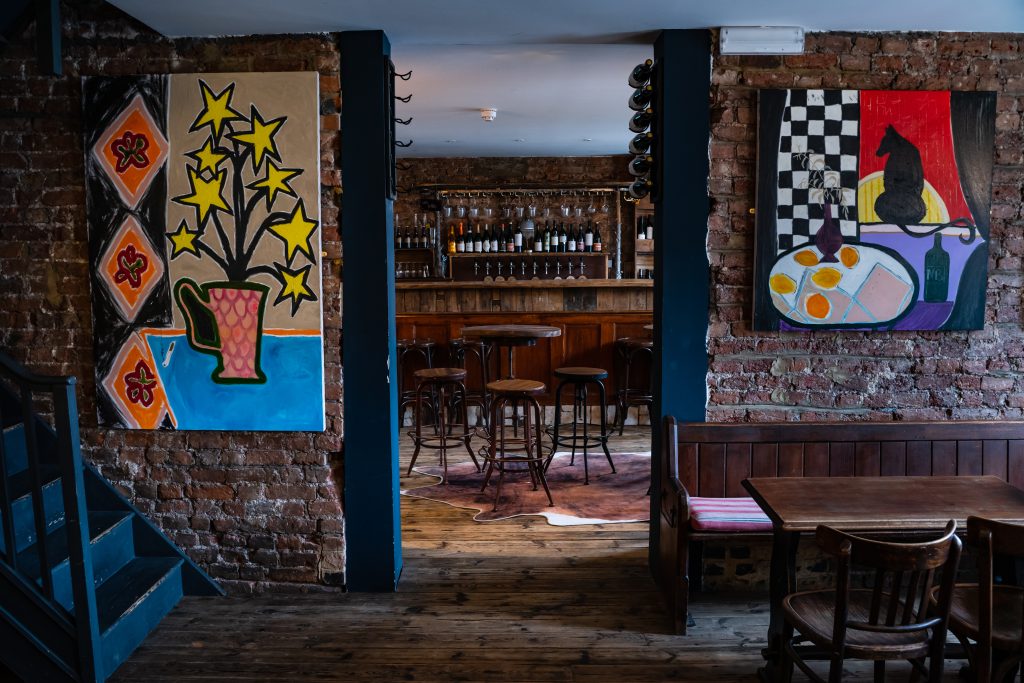 1. Why a wine bar?
The perceived nature of the two worlds compliment. It could be perceived as marrying the finer things in life, but really I feel they're harmonious pleasures. There's a similar aura of cultural indulgence which surround both, whether there's a stylistic link or not. Actively the role of the sommelier and art curator or critic have great overlaps; using informed passion to inspire thought, creativity and personal or shared experience.
2. How did you curate the art?
Birch's overlapping, repeated motifs: cats, wine bottles, loungers, plants & vases etc allow for a thematic flow in the featured pieces. The works connect well together and apart, like you're walking past windows from the outside looking in, enjoying one long still life. And the worn brick walls on which most pieces are hung suit the bric-a-brac compositions.
There was also a lovely opportunity to have the colour and objects of Niamh's painting work with the furnishings. When plotting the hang, we had a clear image of what furniture and decorative objects would sit beneath, chairs to chairs, jugs to jugs. Certain pieces of furniture were moved around for a last touch of harmony.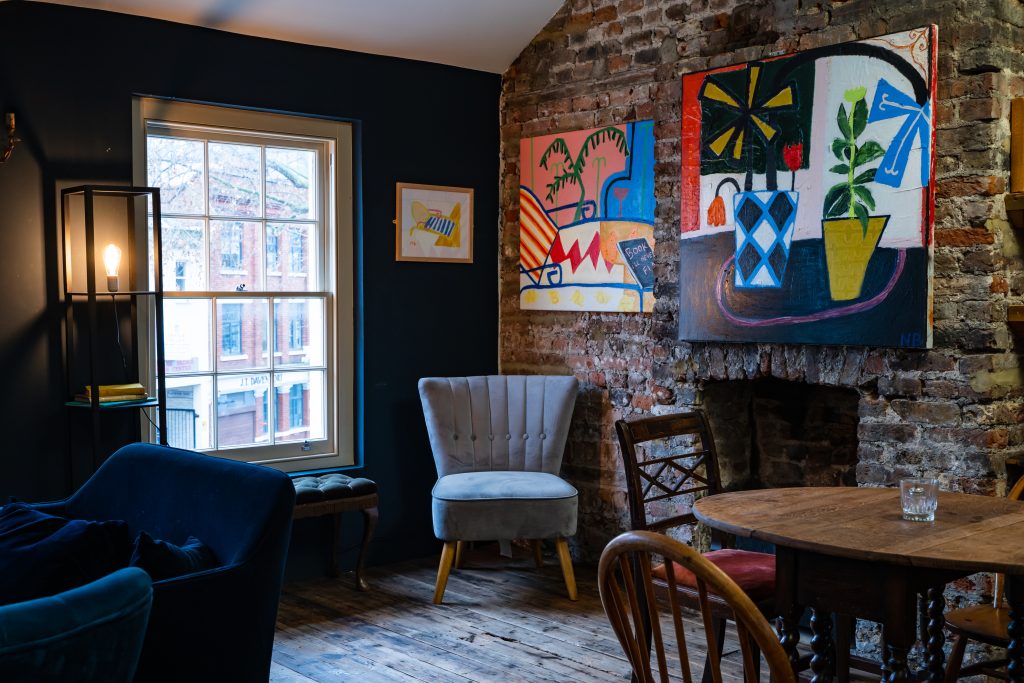 3. What do you think art brings to a public space?
Classical public art elevates a space in so many ways. Attracting new audiences or tourism, influencing visitors' perception of a space, adding cultural or community relevance and education, and inspiring thought and creativity in mass effect to name but a few.
At its purest, art can aesthetically unify and enrich a public space. Considering interiors only, from my experience, many restaurants and venues I remember best are those with well curated art. My favourite restaurant Quod in my home city of Oxford holds a place in my heart, not for their food (which is great!), but their impressive contemporary figurative painting collection. It was wonderful to see people walking in, gaze around in awe. It astounds when the art decor in a venue is a clear afterthought to the interior design. If the greatest interiors follow a unifying theme throughout – a public space should follow the same principals when curating their art, integrating it into design at inception.
4. What are the benefits for artists to exhibit in places other than galleries?
Exposure, experience & inspiration. From a marketing perspective, partnerships are all about collaborating, importantly reaching a complementary, new audience. Working with public spaces gives artists the chance to connect with a whole new existing audience. Often public venues have high footfall. Plus, depending on your artistic ambitions, it can position the art in a specific light; does an artist want their work to be associated with low lit snug rooms? Then a wine bar collaboration is perfect.
And for emerging talent who may not have gallery experience, it's often a softer educational route to exhibiting, curation, commercial dealing, even installation and self promotion; essential skills to learn at the start of the journey. Though I curate for Tap & Bottle, I know of other venues which work directly with the artists.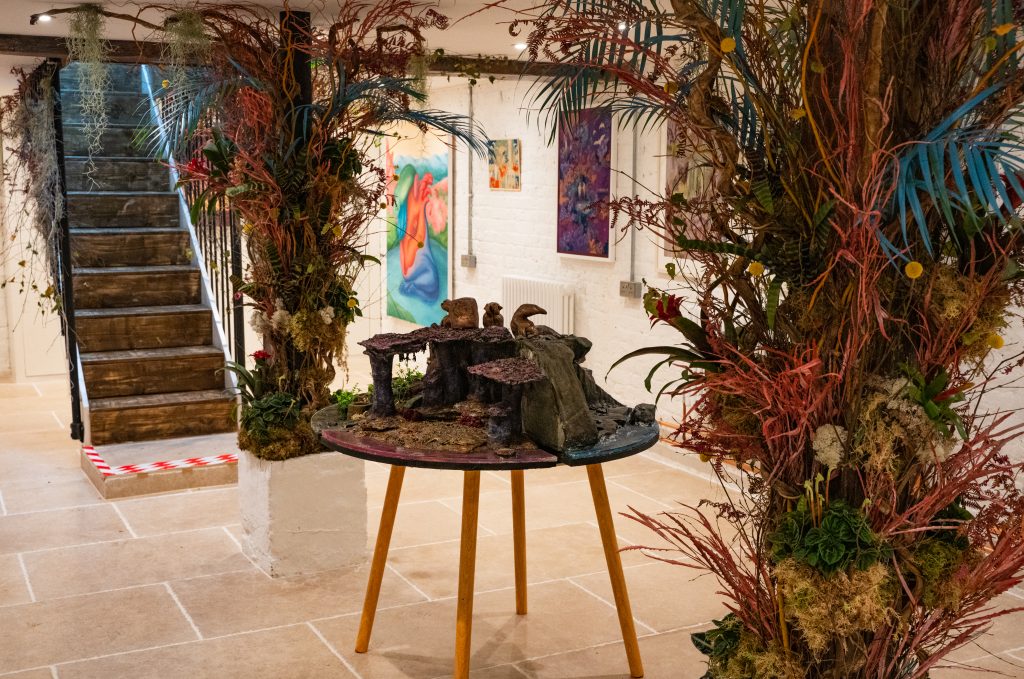 5. What do you think the pandemic has changed in people's expectations of art?
Experience. Grand installations, performance and fully immersive shows seem to be resonating particularly well. People are open to being given more, to be pulled in deeper, conceptually or ethereally. Shows like Giles Walker's MONSTER, Proposition Studios' Terra Nexus, Heather Philipson's Rupture No 1: Blowtorching the Bitten Peach and our Nov 2021 group show Into the Cosmere. These immersive environments, beyond tapping into desire, also encourage conversation and idea sharing more than the classic white wall space, which is essentially empowering to who may lack the confidence elsewhere.
I also think there's exhaustion with digital shows now. That said, experience rings true here as well. Has this exhaustion accelerated the huge steps being taken in the digital viewing experience throughout the industry? Hopefully shifting this exhaustion back to a good experience, and engagement. Amazing work is in effect at many levels, from artist Stuart Semple's VOMA, to art tech specialist viewing rooms like Custorian Tours, to new world galleries like The Artist Workspace Gallery.