The Feuerle Collection is Désiré Feuerle's private museum, created to showcase his eclectic mix of contemporary art, Imperial Chinese furniture, and ancient Southeast Asian art. Located in a former World War Two telecommunications bunker in Berlin that has been renovated by the British architect John Pawson, the museum encourages a visitor experience different periods and cultures in the same space, thereby allowing perceptions of ancient and contemporary art
to be challenged and realigned. Pieces – whether furniture or sculpture, familiar or foreign – are permitted to create their own unique synergy for the visitor to experience and enjoy.
I am deep underground, in a dark space called the Sound Room. Music starts to play, a haunting piano piece composed by John Cage. The two minute long composition captures the imagination and stretches time. My eyes slowly adjust to the dark and when the music ends I see a very faint light in front of me. I am asked to move towards the light and I enter the Lake Room.
The Lake Room offers an unusual view of a lake on the lower floor of the building. This artificial water body sits behind glass, off to one side, and is used to heat the museum via a geothermal heat pump. The majority of the remaining space is completely dark save for spotlights on individual pieces. The contrast of light and shadow makes the subterranean hall feel like a mausoleum for art. Each work sits on a pedestal, with its own circle of space.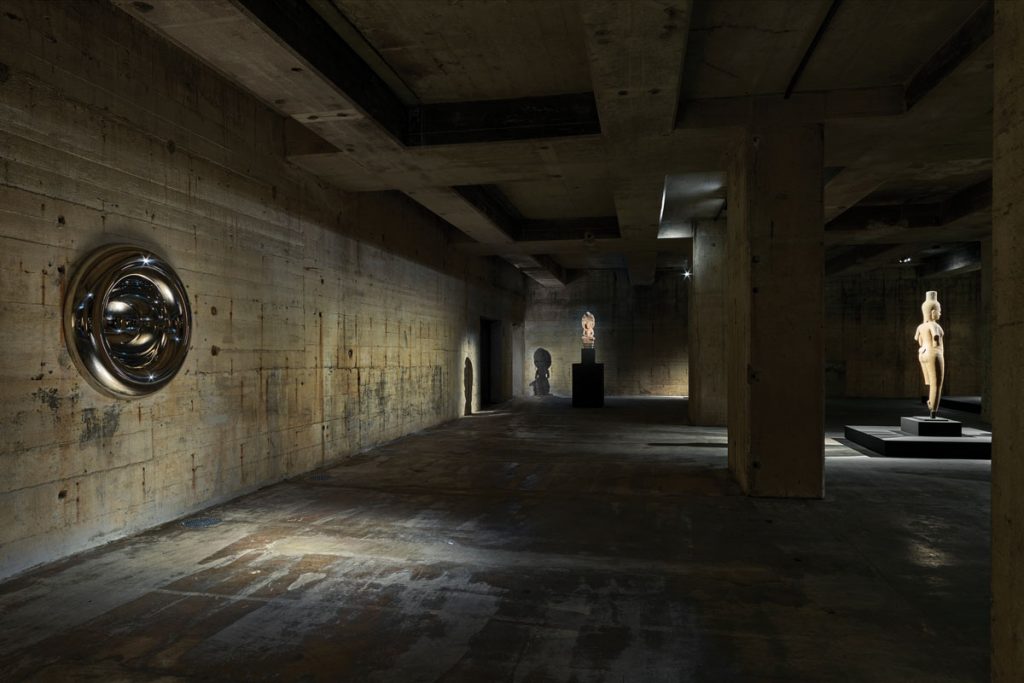 Weight bearing columns are the only things that intersect the large space, creating order and symmetry. The focus of the room centres on an unprepossessing piece – a seemingly simple stone mat. But it is a stone mat from the Han Dynasty (China, circa 200 BC). Contrasting and complementing this centre piece are contemporary sculptures by Anish Kapoor and Zeng Fanzhi, small black-and-white photographs of women in bondage by Nobuyoshi Araki, Qing Dynasty-era garden furniture, and Khmer sculptures of stone, bronze, and wood from the 7th to 13th centuries. All add a distinctive feel and flavour to the exhibition; solid stone pieces and lacquered Chinese furniture, mix easily with steel and bronze, all tempered by hint of eroticism and all encased in the surrounding concrete.
There are purposely no labels or summaries to be found on any of the pieces. Museum guides are present to explain and enlighten, but the absence of words allows a more intimate and personal journey of discovery. One cannot look, read, and move on but must pause, listen and reflect.
The second floor houses antique Chinese furniture. The room is framed by two photographs by Adam Fuss entitled Smoke. They give an ethereal feel to the lacquered Chinese furniture; a feeling in sharp contrast to the Araki's photographs of submissive Asian women. Zeng Fanzhi's Untiltled bronze scuplture completes the room. The piece is lit by four widely separated spotlights which allow a complex interplay of shadows to intrigue and captivate the visitor.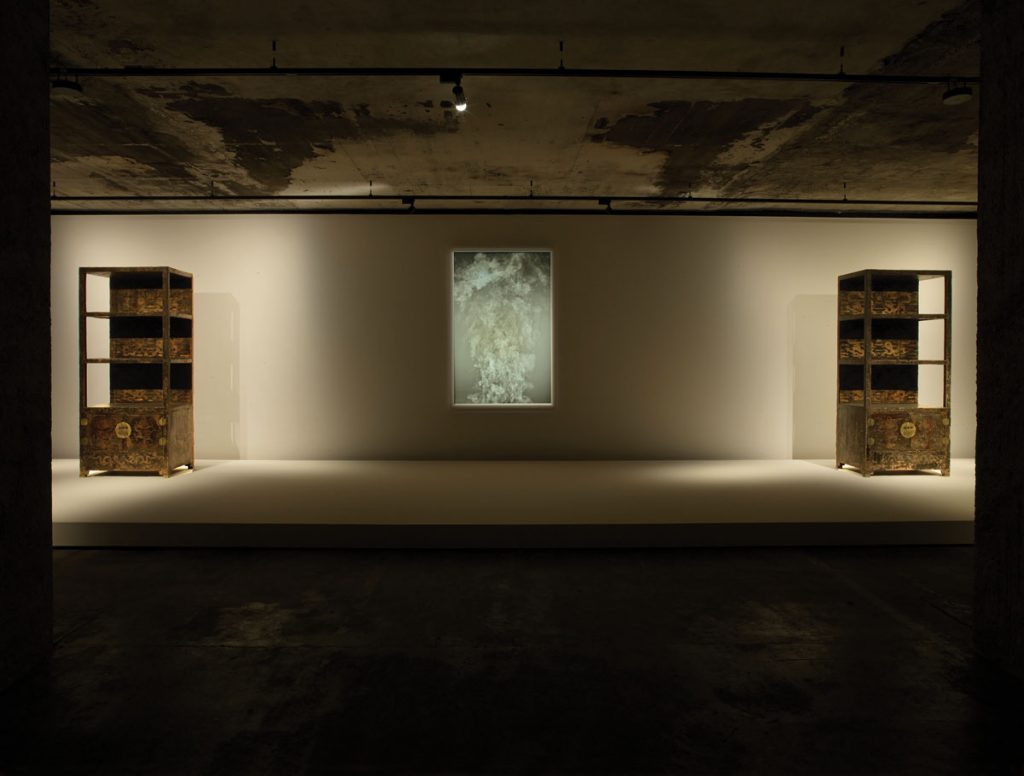 The chance to view a private collection is always special but to experience one in such an unusual space and housing such a rich variety of pieces has made this experience one to be treasured.