Since its arrival on the art scene in 2004, Collect Art Fair London has been celebrating the world's most talented craft and design artists from around the world, providing them with a platform to showcase and sell their work to an international audience. Now in its 16th year, Collect is still the only gallery-presented art fair dedicated to modern craft and design worldwide, playing an instrumental role in defining and growing the market for contemporary craft.
The 2020 edition promises to be more impressive than ever, celebrating over 400 gallery presented artists from across the globe, showcasing exceptional works in ceramics, glass, metal, wood and textiles as well as works from artists using non-traditional and experimental techniques.
This year Collect moved to its stunning new home at Somerset House, London, presenting a new environment for Collect exhibitors to contextualise and curate modern craft.
In addition to the main fair, Collect Open presents an important platform for new ambitious craft-led installations from 12 selected artists and collectives.
Art Views met with Collect's Director Isobel Dennis to find out more about this year's show.
Can you tell us about Collect and how it all started?
Isobel Dennis: Borne out of the success of the long running Chelsea Crafts Fair (which then became Origin), the Crafts Council identified during this time that there was a clear market growing for makers producing work that was of museum quality and commanding higher purchase prices. These artists were also being courted and represented by galleries in a finer art context. In the launching of Collect in 2004, the Crafts Council saw an opportunity to provide a professional platform to promote this calibre of work and forge strong relationships with galleries and nurture makers and artists in this context. It remains the only fair globally to champion craft in this context and has been pioneering in its cultivating of highly specialist galleries and their artists at this level.
I see you are moving to Somerset House this year. How will it be different than previous years?
After five years at the V&A and ten years at the Saatchi Gallery, moving to a new venue allows the fair to evolve and grow. We considered many different types of venue suitable for an art fair such as Collect, and after much consideration, Somerset House is the right cultural fit and environment to be holding Collect. The Neoclassical 18thC architectural grandeur of Somerset House is the perfect backdrop against which to curate and display exciting contemporary work of this calibre. In addition, what sets the fair apart is the majority of the galleries taking part will have their own room in which to create their signature and environment. The layout of the fair is important to ensure a visitor's experience is as enjoyable and inspiring as possible therefore, Collect will be taking all three gallery wings that surround the Edmond J Safra fountain court allowing easy access to the gallery spaces throughout.
I know one of the aims of Craft is to elevate the art form – can you tell us more about this?
The goals behind the fair each year are to select and support specialist craft and design galleries and dealers worldwide who represent highly talented artists, giving unparalleled access to view and buy their exceptional work. Held at the start of the international cultural calendar, Collect's strength and reputation has grown considerably over its 16 years as it is required that 80% of the work for sale is made in the last five years by living artists and designers. Each gallery, therefore, curates their own display and commissions new pieces or a body of work especially for the fair. This focus on the truly contemporary ensures Collect is introducing exciting work into the market on an annual basis.
Therefore, Collect is about the new, the modern, the contemporary and places craft in a fine art context which it truly embraces and is often outstanding within. From those using centuries-old processes to those pioneering new techniques and merging disciplines, year on year the fair attracts galleries who represent the most prolific and respected artists.
This focus on the truly contemporary ensures Collect is introducing exciting work into the market on an annual basis. It is incredibly important to provide art consultants, interiors specialists, collectors, museum curators, design practitioners and the wider public an unrivalled opportunity to meet the artists, talk to the exceptionally knowledgeable galleries and discover and invest in contemporary craft that will surprise, delight and endure.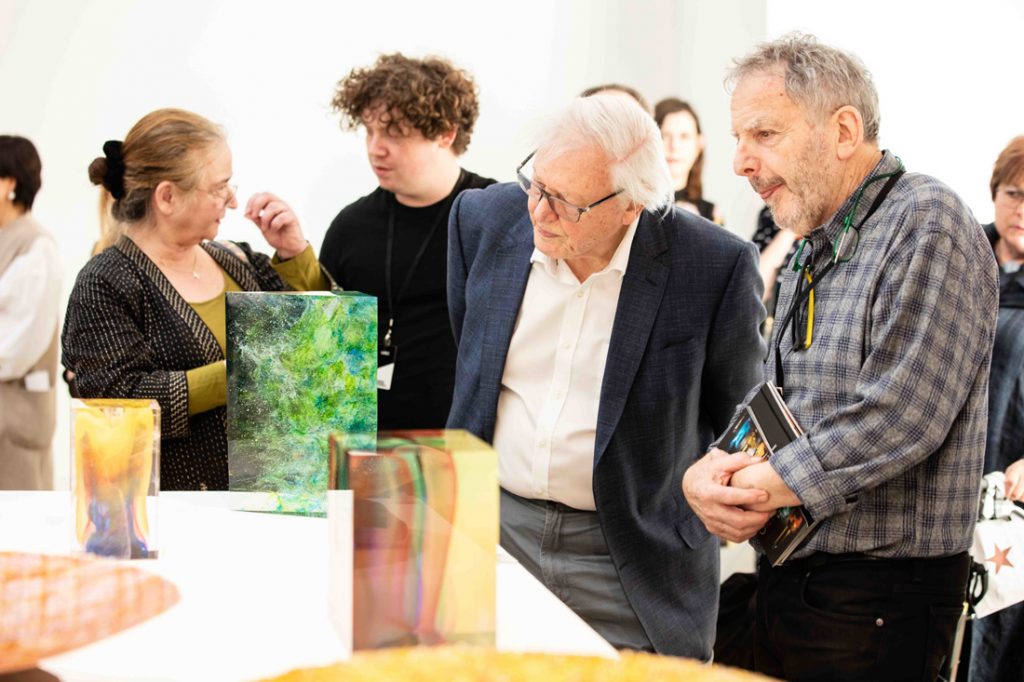 Who are your 'top three' artists to look out for this year?
The beauty of Collect is a large amount of the work is commissioned for the fair itself or has not been shown at the fair before, so the delight is often not realised until the fair opens its doors.
There are hundreds of artists shown at Collect each year via approximately 40 galleries-picking individual artists is hard so here is a selection;
I'm looking forward to welcoming new galleries to Collect 2020 like Gallery Sklo, a gallery specialising in glass from South Korea. Among their selection will be Joon-Yong Kim, the artist working in blown and cold worked glass that was shortlisted for the recent Loewe Craft Prize – the work is exquisite. Also new from S. Korea is Lloyd Choi – launching her gallery at the fair, she spends half her year in Seoul and the other in London. Among others Lloyd will bring Soo-Jong Lee, contemporary Moon Jars in porcelain- it's wonderful to have a contemporary take on this very collectable artform.
We're also delighted to be hosting a special curated display from Queen Elizabeth's Scholarship Trust to celebrate 30 years of British craftmanship.Their selection includes Annemarie O'Sullivan who is creating a large scale wooden sculptural 'basket' which will be in response to the architecture of the building.
There are plenty of young new artists that will be showing for the first time in London at Collect – like Northlands Creative's Alexandra Muresan from Romania showing extraordinary works in glass and steel as well as Kathleen Reilly showing a range of conceptual objects through Gallery SO – one a crisp packet with sewn in zip, another- preserved butterflies and flowers compressed into a glass plate. We have plenty to challenge the visitors' perception and interpretation of values given to different materials.
A real highlight for me will be to see the selection that Ting Ying gallery brings from Carol McNicol. Now in her eighties, Carol has been instrumental in the UK's studio pottery scene since the 1970s and is something of a maverick – often including some hard-hitting social commentary. Still making highly sought-after work, Carol's pieces will be a really interesting complement to the selection of works by Ting Ying that focus on the quietly beautiful tradition of Chinese Dehua porcelain.
+ Collect website here