The Princess Hamilton hotel in Bermuda was once a British intelligence centre and way station where all mail, radio and telegraphic traffic bound for Europe and the Americas was intercepted and analysed by 1,200 censors, before being routed to their destination. It now houses something completely different: a large contemporary and modern art collection. Servanne Sohier travelled to Bermuda to marvel at this art collection.
Bought by the Green family and restored in 2013. Pete Green had been looking to invest in a Bermuda hotel property for the past few years, having been previously involved in luxury London hotels Claridge's, the Berkeley and the Connaught. Pete now shares the ownership with his two sons, Alexander and Andrew. They invested $100 million into making the venue both an elegant luxury hotel as well as an art gallery: it features more than 150 pieces of artwork, ranging from vintage posters to pop art.
Prior to my trip I was told by the hotel representative John that there would be a lot of art, just how much art there would be on site hadn't entirely sunk in. I wasn't quite prepared for the exhilarating experience that would await me. End of year deadlines and events got in the way. It's a late afternoon in early December when we arrive, and the Christmas decorations are already up.
Fresh off the plane and a little jetlagged I step into the Pink Palace as it is lovingly known by locals and I am immediately greeted on my left by a large mirrored glass called Monkey (Blue) by Jeff Koons, and on my right, nestled between two chairs, hangs Girl With Balloon by Banksy. I look up and there's a Damien Hirst (Cineole, 2004) on my right and a series of Warhols on my left, further down I notice a wooden sculpture by Chinese dissident Ai Wei Wei.
Our group walks to the reception where more Warhol awaits us: A portrait of Queen Elizabeth II is welcoming the guests. This is one of sixteen silkscreen prints from the series "Reigning Queens". By then, my jetlag addled brain is spinning and John, the hotel's representative warns me more is on the way. We stop by the lift and I notice a few metres away a Magritte next to a cash point, humour is not lost in this hotel I think. Duchamp would have had a good chuckle seeing this set-up.
We are taking the lift to the Gold zone for VIP guests and members of Fairmont. I am being shown to my room which is on the sixth floor and part of two executive floors whose walls are covered with original art. My room has a high quality replica of a Joseph Albers painting above the kettle (wise move) and a map by Justine Smith near my bed. I step out on the balcony and smile: a large wooden statue by KAWS with an added festive touch – a Santa hat, stands proudly in a corner of the hotel's garden.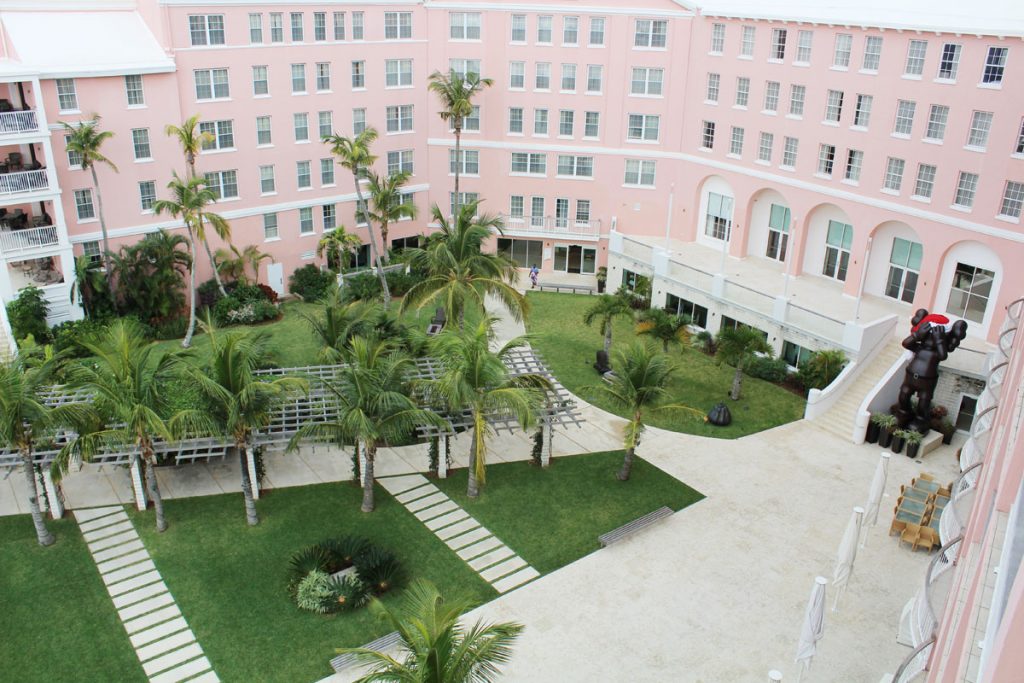 Contemporary art
The next morning upon waking up I decide to break away from the group and embark on a journey on my own. It's a small-scale adventure but nonetheless incredibly fun: I am going to explore all the hotel's ground and discover what more art this place has on offer and judging from what I have seen last night, I won't be disappointed. I am a sucker for contemporary art. I love bold, bright and expressive paintings. I love art that comes from the heart and has an immediate visual impact and I am like a kid in a candy shop in this hotel.
I have breakfast in the Gold lounge surrounded by the playful Japanese artists Takuashi Murakami and Yoshimoto Nara who inject some positive vibes—not that they were lacking—to this sunny morning. Next, I take the lift down and bump into a giant Miffy by Tom Sachs. I take some stairs upstairs to the Gold Ball Room with a giant Christmas tree and another portrait of Elizabeth II made of 50 pound notes by Santiago Montoya. I turn around to get to another lift and on my way I am greeted by a 3D landscape on aluminium by pop art veteran Tom Wesselmann.
The sixth and seventh floors are the executive floors. My floor, the sixth one, is a bright affair with David Shrigley by the lift. The seventh floor comes as a surprise, the art, mainly L.S. Lowry, gives the corridor a more subdued feel. My adventure continues and so does the list which seems endless, two Keith Harings, one in the Crown & Anchor restaurant and one outside the toilets, a Yayoi Kusama pumpkin in the garden and Peter Blake in a small corridor to name but a few.
The restaurant Marcus has a fantastic bar with stunning views of the ocean. It also serves delicious local food and on Sundays there is a Champagne brunch with a buffet. The restaurant also houses a powerful series of drawings by Nelson Mandela. One of the drawings is that of the bars of his cell and includes a replica of the key to his cell on. I must admit feeling suitably uncomfortable carving some meat which was placed underneath Mandela's drawings.
The majority of the collection was already part of the Green's family collection. It is rumoured to be around 150 pieces but this number constantly changes and the artwork tends to move around. Art is loaned to other institutions in Bermuda and the owners commission art. An example of a recent commissioned piece is an installation by renowned British pop artist Julian Orpie that greets guests arriving by boat in the marina. The almost 13m long piece depicts Opie's signature simplistic figures in life size in bronze on a Turkish limestone surface. There is also an artist-in-residence scheme. Hamilton Princess hosts approximately four artists a year. They are welcomed for a two week all expenses paid visit. The idea is to give the artist an experience unlike any before by allowing them to completely become immersed in the hotel and Bermuda. American fashion illustrator Holly Nichols is one of the artists who have benefited from the scheme.
Art soothes the soul and challenges the mind. The Princess Hamilton hotel embodies this, surrounding and overwhelming your senses with some of the most iconic artists from the modern era. There's no better place to go and mentally digest majestic artwork than sipping a cocktail, with your feet in the warm Bermudan sand.
Disclaimer: This art collection/selection was not curated by the Art In… agency team.