Yachting and collecting art are experiences that have in common the pursuit of ultimate leisure and a passion for beauty and luxury. Works of art help make the on-board experience more intense and thus, more satisfying. Nevertheless, displaying a multi-million-dollar art collection on a yacht presents a very specific set of challenges concerning the environment, insurance and above all, security. Art advsior Eva Zanardi lays down five rules you need to know when carrying and displaying art on superyachts.
1. IDENTIFY YOUR ENEMIES: When choosing art for your superyacht the first thing to do is identify your enemies: LIGHT, SALT AIR, MOISTURE, SAND and MOVEMENT.
It goes without saying that luxury yachts often have carefully crafted interiors fitted with state of the art equipment that regulates humidity and temperature with a full crew dedicated to maintaining it. However, faulty AC systems can happen even to the best of us. Display fine arts in your yachts only when the climate can be effectively controlled and the elements shut out. A good rule of thumb is to keep artworks that are placed near doors under UV blocking glass encasements. Movement: Paintings need to be hung professionally, screwed to the wall using security hangers with locking mechanisms, and using Velcro or bolts to secure the corners. Small sculptures and objects can be secured by using "museum glue" a clear product (also called gel, wax or putty) that fixes objects to surfaces (not permanently) to stop them from shifting and falling. AVOID displaying anything of value near a vent, heating or cooling source.
2. CHOOSE THE RIGHT MEDIUM: Oil paintings and sculptures are a 'yes', acrylics are also pretty safe. Paper-based works, in particular watercolors and drawings, are particularly susceptible to sunlight. It is important to frame them using a highly protective anti-glare, anti-reflective, conservation glass and hang works way from direct sunlight (when in doubt ask your trusted art advisor.
3. SUBJECT MATTER: Personally, no matter how palatial a superyacht can be, I am always aware of the fact that I am in a confined structure in the middle of a vast ocean. I find abstract, minimalist art very soothing and calming. I advise my clients, unless they have a very specific artwork or artist in mind, to refrain from choosing red and dark purple heavy artworks or any super saturated hues (they are exciting but also in some cases, anxiety inducing). I am more inclined to steer my clientele towards blue, greens, yellows or any pastel colour. I particularly like the works of artists such as David R. Prentice, Robert Mangold, Dan Flavin and Donald Judd.
4. ALWAYS INSURE YOUR ARTWORKS: Valuable fine art should be covered by proper insurance but be sure to read the fine print.In some instances, artworks may fall under the insurance of the yacht itself but they are likely to be covered up to a certain amount both individually and as a whole.For major collections, artworks can be bundled into a larger insurance policy. For less substantial collections, insurance may need to be sought on an artwork by artwork basis. To keep in mind: once the artwork is moved from the yacht, which is also the time when it is most vulnerable, it will no longer have coverage. Insurers also may not offer coverage when a yacht is in certain geographical locations such as the sea near Somalia. Some insurance policies may specify that artworks damaged over time by environmental issues such as sunlight, will not be covered. Adequate paperwork, from export licenses, proof of ownership, passports to CITES certificates, must be always available and at hand. Lastly, it is recommended that the captain keep an inventory of all artwork onboard with appropriate documentation.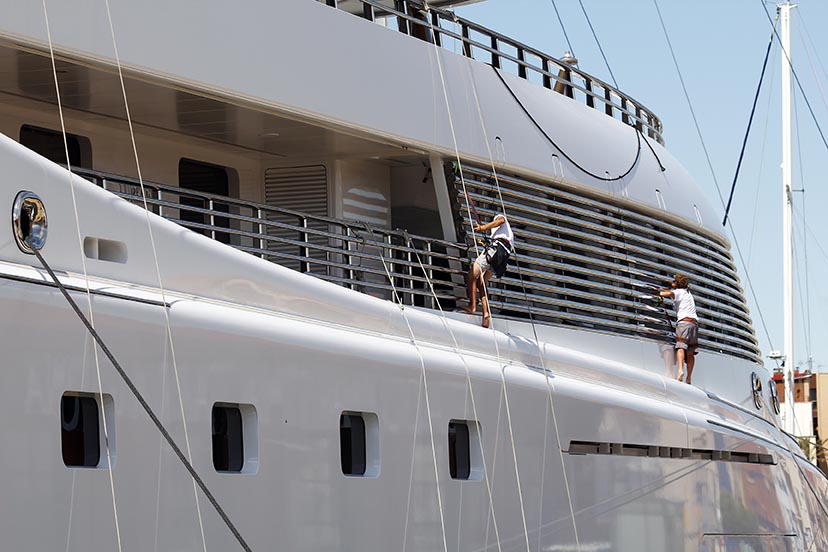 5. ALWAYS PROTECT YOUR ARTWORKS: Needless to say, security is crucial to the protection of any valuable artwork on display. A working alarm system is essential, most likely a condition of your insurance. Most large yachts have multiple security systems, including cameras or contact sensors on the deck. Artwork also can be fitted with virtually unnoticeable GPS tracking devices that allow it to be traced after a theft. Given their super advanced nature, the issue is not the systems but the proper training of the crew to efficiently use those systems and to be constantly thinking about security.